---
UR FOG Easy 2 Fast 03 Mist-Proof Burglar Alarm, ideal for protecting small / medium environments such as shops, houses, garages. Make 2 deliveries of 200m3 of 15 sec each. Equipped with 1 cylinder . F3SN220ES2
Reference: F3SN220ES2
Brand: UR FOG
EAN: 8058258768540
PRODUCT NOT AVAILABLE, DISCOUNT NOW 5%
---

HELVETIA-UR FOG PARTNERSHIP:
Do you have a business?
Discover the benefits you can get from this collaboration!
ANTIFURTO NEBBIOGENO EASY 2 FAST 03 UR FOG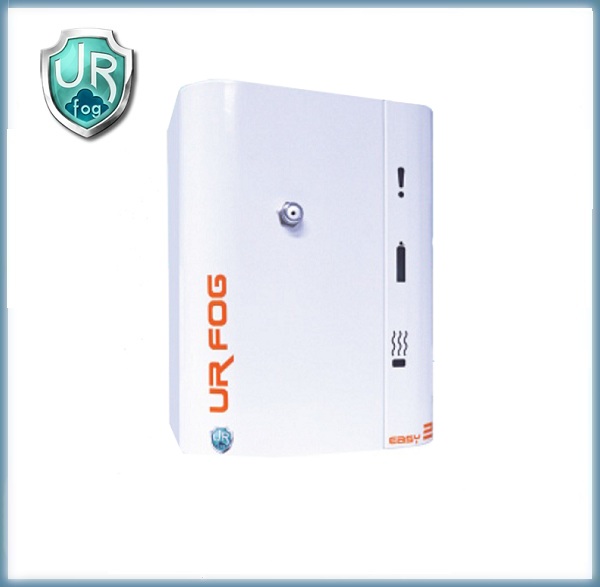 URFog FAST 03 EASY 2
EASY URFOG fog system
Latest version of the EASY fog generator generation, with delivery up to 400m3 .
URFOG EASY 2 can be mounted on the wall and is equipped with 1 cylinder with which it is possible to make 2 deliveries of 200m3 (15 sec. Each).
Once delivery is complete, the cylinder will not be recharged but will be replaced in a very simple way
The energy consumption during operation is reduced and the smoke liquid is certified and is not dangerous for animals or people.
Product details
Nebbiogeno - UR FOG
Delivery up to 400m3 (with full cylinder)
Smoke-like liquid certified as not harmful to health
Single cylinder FESB2002 ( supplied )
2 deliveries of 200m3 (15 sec. Each)
Power supply:

220 or 110V

It meets the standards: CE and EMC
It meets European standards
Can also be installed at an angle
White color
Dimensions: 26.5cm x 23cm x 34.5cm (LxWxH)
Weight: 9.0kg
Data sheet
Model
F3SN220ES2
Machine
WEIGHT OF THE FOG MACHINE
About 9Kg
WEIGHT WITH PACKAGING
About 11 kg
UNITS ON ONE PALLET 100X120
30
DIMENSION OF THE MACHINE
26,5x23,0xh34,5
DIMENSION OF THE PACKAGING
32,0x25,0xh43,0
Colors

white

WORKING TIME WITHOUT MAINS POWER
About 2 hours
HEAT UP TIME FROM COLD
about 70 minutes
VERTICAL OR CORNER MOUNTING
yes
HORIZONTAL MOUNTING
no
SERIAL / USB PORT FOR MONITORING
yes
NOZZLE TAMPER
no
SERIAL BUS FOR STANDARD PROTOCOL
yes
Fog Generator
NEW HEATING SYSTEM PLUS
yes
MAX FOG SINGLE SHOT 1.5 M VISIBILITY
up to 300 m3
MAX FOG SINGLE SHOT ZERO VISIBILITY
up to 200 m3
MAX SECONDS OF FOG
15 sec
MAX FOG EMISSION WITH FULL FOG TANK
400 m3
NUMBER OF FLUID TANK
1
FLUID TANK CAPACITY
300 ml
SHOOTING SPECIFICATION
2 shots up to 200m3
CYLINDER MODEL
E200 2 SHOTS
CYLINDER INCLUDED
1
DOUBLE FOG TANK ADVANTAGE
NO
Electrical Specifications
POWER SUPPLY
220 OR 110V
AVERAGE POWER CONSUMPTION
37W
BACK UP BATTERY
YES
OPTIONAL DEMO / ANTIROBBERY KIT
YES
WIRED INPUTS ARMING AND SHOOTING
YES
WIRED OUTPUTS
YES
STANDARD COMMUNICATION PROTOCOL
YES
Standards
COMPLIES WITH EUROPEAN CE
YES
FOG FLUID IS CERTIFIED
YES
MEETS EUROPEAN STANDARD
YES
More details
| | |
| --- | --- |
| | For operation: |
| | |
| --- | --- |
| | The fastest fog generators in the world |
| | The densest fog |
| | Removable cylinder |
| | Low energy consumption |
| | Smart bus standart protocol |
| | Innovative technology and performance |
| | Safe and certified |
Accessories
UR-FOG ACCESSORIES:
F01STH -

Wall bracket for FAST 01

F03STH -

Wall bracket for FAST 03 - EASY 03

F02STH -

Wall bracket for FAST 02

F23STHPRO - Wall bracket for FAST PRO 02/03
FELSTH -

Ellipse line bracket

FPU4000ST -

FAST 4000 PUMP PRO PLUS bracket

 

FPUM -

PUMP 4000 handle

 

 

F23PRUG7 - 7CM Nozzle Extension
F1MO3UG3 -

3-hole nozzle

F23KITD -

Demo Kit for FAST 01/02

and FAST / FAST PRO

URTR -

Remote control with receiver

URT - Additional remote control
F! 23KEY -

Armament key

F23KITA - Anti-

theft cable

F23PA - Anti-

theft button

URRS232 -

rs232 5 / 12V transceiver

URRE -

Relay Card

URCL - Cloud Lan card
F1SO4PS -

Power supply

F1M04BATT -

Battery 2Ah

 
Download
No brochures available

WHO IS UR FOG?

UR Fog is one of the most solid Italian companies in the fog systems market.
The UR FOG team is made up of professionals and engineers with over 20 years of experience in both new product development and distribution management worldwide. From 2012 to date they have obtained several patents, created new technologies such as single and double cylinder technology, born at the very beginning of the activity and introduced important innovations such as the adjustable nozzle.
One of the strengths of this company and thanks to which they are often chosen, is the speed of ejection fog, a critical aspect for the products of many other competing brands.
All our products are in conformity with the in force CE normative (
read here
). To ask for a copy of the certification
fill out this form
Questions
(1)
From
TIZIANA GIUSEPPINA CARRETTA
|
2018-03-23 09:05:55
Salve volevo sapere se è completo di bombole ,se è compatibile con tutti i sistemi di allarme e se e facile da installare infine quale sconto prevede se prenoto ora grazie
administrator
Buongiorno,


come indicato nell'annuncio è dotato di:





Erogazione fino a 600m3 (con bombola piena)


Liquido fumogeno certificato come non dannoso per la salute


Bombola singola E 200 2 SHOTS (in dotazione)


2 erogazioni da 200m3 (15 sec. ciascuno)


Alimentazione: 220 o 110V


Rispetta gli standard: CE e EMC


Rispetta gli standard europei


Installabile anche ad angolo





Per quanto riguarda lo sconto/prenotazione è sufficiente cliccare sull'apposita icona per scoprire lo sconto a lei riservato


Restiamo a disposizione
Your Question has been successfully sent our team. Thanks for question!