---
KITABS48-IP-PLUS: Anti-theft Kit, Bentel Alarm KITABS48-IP-PLUS with 2 Perimeter Sensors included! (2x TK504) : 1x ABSOLUTA PLUS ABS48 Zone Hybrid Wired Wireless PowerG board (ABS48) + 1x GSM / GPRS / SMS communicator optional board (ABS-GSM) + 1x GSM antenna (ABS-AK) + 1x Enclosure (ABS-P) + 1x T-WHITE LCD keypad + 1x 2.6A switching power supply (BAW35T12) + 1x Self-powered siren (NEKA) 1x LAN / WAN communication card (ABS-IP)

discover the available quantity
LO HAI TROVATO A MENO?
Scrivici dove e ti sconteremo la differenza fino a fine mese!

---
PROMO PROFESSIONAL AND COMPLETE HOME ALARM KIT - ABSOLUTA PLUS CONTROL UNIT - POWERG TECHNOLOGY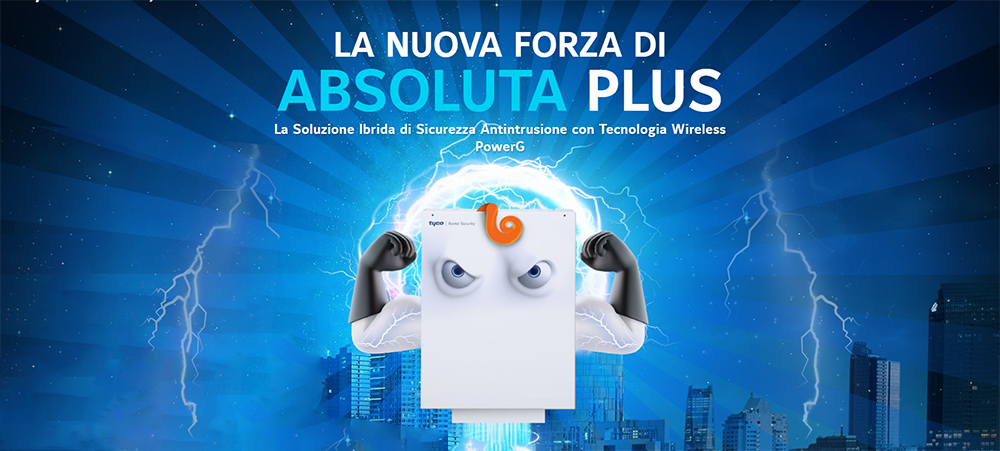 NEW ABSOLUTA PLUS CONTROL UNIT | LET'S FIND OUT MORE:

Absoluta Plus
combines the renowned reliability and flexibility of Absoluta control panels with the advanced PowerG wireless technology, market leader. Available as both a fully wired and hybrid system with a wide range of compatible devices, Absoluta Plus offers many new business opportunities to residential and commercial system installers. Designed according to Italian design and quality, this new security solution is a further step in the evolution of the Absoluta platform, built with the same passion and attention to detail required by an increasingly demanding market.
The benefits of Absoluta Plus:
Stronger
- Two-way wireless communication with high reliability
More Powerful
- Transmission range up to 2000m (in free area)
Wider
- Offers the largest variety of wireless devices
Faster
- Simple and quick installations, minimum maintenance
WHAT DOES THIS KIT INCLUDE?
Inside this professional bentel anti-theft kit you will find:

- New! 1x Central PCB Wired Alarm Bentel Wireless Absoluta Plus 48 Zones (ABS48)
- 1x LAN / WAN communication card (ABS-IP)
- 1x GSM / GPRS / SMS Communicator Option Card (ABS-GSM)
- 1x GSM antenna for plastic case (ABS-AK)
- 1x Plastic Case (ABS-P)
- 1x White LCD keypad (ABSOLUTA TWHITE)
- 1x 2.6A Switching Power Supply (BAW35T12)
- 1x Self- powered outdoor siren (NEKA)
- 2x Perimeter Alarm Sensors Double PIR + MW technology with Pet Immunity ( TK-504 ) - really affordable price!

Attention: batteries not included in the kit. Click below to buy them:
1) Battery for NEKA siren: click here
2) Battery for kit operation: click here
PROMOTIONAL KIT


By purchasing the KIT-ABS48-IP-PLUS version you will have
the BENTEL COMPLETE ALARM KIT " KITABS48-IP " but with the addition of 2 alarm sensors PIR + MW Setik TK-504

OPPORTUNITY NOT TO BE MISSED!
The sensors in fact you will have them at a really affordable price !
2x PIR + MW Pet Immune dual technology perimeter alarm sensors - Setik TK-504

Passive indoor motion detector - Setik
Double Technology PIR + MW (Microwave) with MCU processor with ASIC technology and 10,525 GHZ Doppler detection module able to distinguish the real movement of an intruder or the interference of environmental factors.
Range 12 meters
PET Immunity: Pet immunity
Immune to strong EMI / RFI and light interference
Temperature compensation technology for using the device at different temperatures
Possibility of wall installation with TK-MB bracket
Size: 125 * 60 * 38mm

1x Central PCB Wired Alarm Bentel Wireless Absoluta Plus 48 Zones (ABS48)


1x Central PCB Wired Alarm Bentel Wireless Absoluta Plus 48 Zones (ABS48)

Bentel Absoluta Plus ABS48 alarm system PowerG wireless wired alarm control unit, up to 48 zones, anti-intrusion system ideal for residential and commercial systems. Up to 48 zones via radio, connection to 8 keypads, 128 keys / tags, 16 radio keys and proximity readers. Remote control (APP, SMS, DTMF), programmable outputs. Grade2 certification

1X Plastic container with sabotage microswitch - ABS-P



1X Plastic container for Absoluta with sabotage microswitch - ABS-P - BENTEL

- Plastic Container - BENTEL
- Suitable for ABSOLUTA series
- Equipped with sabotage microswitch
- Modern design


1X 2.6A Switching Power Supply - BAW35T12 - BENTEL


1X 2.6A Switching Power Supply - BAW35T12 - BENTEL

- Universal input voltage: 90 to 260Vac
- Output voltage: 13.8Vdc
- Output current: 2.6A
- Protection from: Short circuit - Overload - Overvoltage - Battery polarity inversion)
- Temperature compensation
- Consumption without load less than 0.75W

- Compatible with ABSOLUTA and KYO series control units





1X White LCD Keypad - Absoluta Series -

ABSOLUTA TWHITE




1X Absoluta series keyboard with LCD display - White - ABSOLUTA TWHITE

- Keyboard - BENTEL

- Model: T-White
- Compatible only with ABSOLUTA series control units
- 2-line by 16-character blue LCD screen with backlight
- Extremely intuitive user menu interface
- Integrated proximity reader compatible with: Proxi-Cards, Mini-Proxi, Proxi-Tags.
- 3 integrated programmable input / output terminals.
- Shutter sensor support.
- Terminals are on the bottom
- Adjustable display brightness and contrast.
- 4 system status LEDs.
- 3 LEDs for proximity reader: insertion, insertion A and B.
- Quality product

1x Additional GSM / GPRS / SMS communicator card for Absoluta series - ABS-GSM

1x Additional GSM / GPRS / SMS communicator card for Absoluta series - ABS-GSM

- Transmission of Contact ID messages on the GSM voice channel
- Voice messages on GSM
- Remote programming with BOSS using the GPRS channel
- Simultaneous transmission on PSTN and GSM
- GSM remote listening function
- SMS that can be generated for each control panel event
- Receipt of SMS for the generation of events in the control panel
- Recognition of the caller
- Check of residual credit

1x LAN / WAN communication card - ABS-IP - Bentel

1x LAN / WAN communication card - ABS-IP - Bentel

- Additional IP communicator card for Absoluta Series

- LAN / WAN internet protocol with 128 bit encryption
- Plug and play: router configuration is not required
- Event notification by e-mail
- Transmission of events to Sur-Gard receivers
- Up / Download of data remotely through the BOSS software
- Support for ABSOLUTA APP 2.0
- ITV2 third party integration protocol

1x GSM Antella suitable for Absoluta - ABS-AK plastic enclosure

1x GSM antenna suitable for Absoluta - ABS-AK plastic enclosure

- GSM Antenna Kit - Bentel
- Compatible with ABSOLUTA control units in plastic container.
- Kit composition: GSM antenna + Cable for installing the ABS-GSM card in the plastic container

1X Self-powered siren - Flashing light - NEKA


 

1X Self-powered siren - Flashing light - BENTEL (NEKA)

- NEKA self-powered outdoor siren - Bentel Security
- Type: Siren with flasher
- 4 alarm inputs (three with programmable polarity, ensure compatibility with any type of control panel)
- Possibility of programming 2 different sets of sounds by associating them with different types of alarms
- Self-protection against burglary, removal, cable cutting
- Maximum alarm time programming.
- Magnetodynamic exponential horn with high acoustic performance
- Sturdy plastic container resistant to the most adverse weather conditions
- Additional protection with tropicalized steel cover
- Suitable for outdoor environments
- Simple installation with drilling template
- Battery test circuit with the exclusion of the flasher with low battery
- Battery NOT included. To buy it click here
- Dimension: 208x252x98 mm. Weight: 2.3Kg.
ABS42 vs ABS48 Absoluta Plus:
| | | |
| --- | --- | --- |
| Features | ABS42 | ABS48 (ABSOLUTA PLUS) |
| Maximum number of wired zones | 42 | |
| Maximum number of wireless zones | 32 | 48 |
| Total maximum number of combined zones (wired and wireless) | 42 | 48 |
| User codes | 63 | 63 |
| Installer Codes | 2 | 2 |
| Keyboards | 8 | 8 |
| Tags, keys and proximity cards | 128 | 128 |
| Radio keys | | 16 |
| Number of proximity readers | 32 | 32 |
| Input / output expansions | 16/8 | 32/16 |
| Number of feeding stations | 4 | 4 |
| Areas | 8 | 8 |
| Maximum number of outputs | 20 | 20 |
| Timer | 16 | 16 |
| Voice messages | 206 | 206 |
| Telephone numbers in the directory | 32 | 32 |
| Email addresses | | 32 |
| Management via ABSOLUTA APP | | YES |
| Management via telephone (DTMF) | | YES |
| Management via telephone (SMS) | | YES |
WHAT HAS CHANGED?
New Hardware and Firmware cards
New PowerG receiver, BW-PGH
All wireless devices are in powerG technology
Operations with temperature and light in the events and actions matrix
Keyboards show indoor and outdoor temperatures
Possibility to program the insertion schemes with the BW-RCH
Card size
Compatible with all BPI peripherals
Compatible with ABS-GSM
Compatible with ABS-IP
Compatible with M-Touch keypad
Unchanged programming (software and method)
User App (Absoluta PRO and Absoluta Free) updated for Absoluta Plus control panels
Home automation functions
Remote maintenance and support (BOSS software)
Available with EN Grade 2 and 3 certification
PowerG Wireless Radio Technology
The new Absoluta Plus is equipped with Wireless Power G Technology , which guarantees high immunity from interference, a more robust system and maximum 2KM coverage.
It supports 4 frequencies in the 868-869 MHz bands and the frequency changes 64 times per second. Communication efficiency increased as the battery life. No collision.

Fully two-way communication
The new Absoluta Plus control panels are completely bidirectional!
- Remote management of the system and programming
- Diagnosis and maintenance
- No transmission when disarmed
- Ability to register devices in the office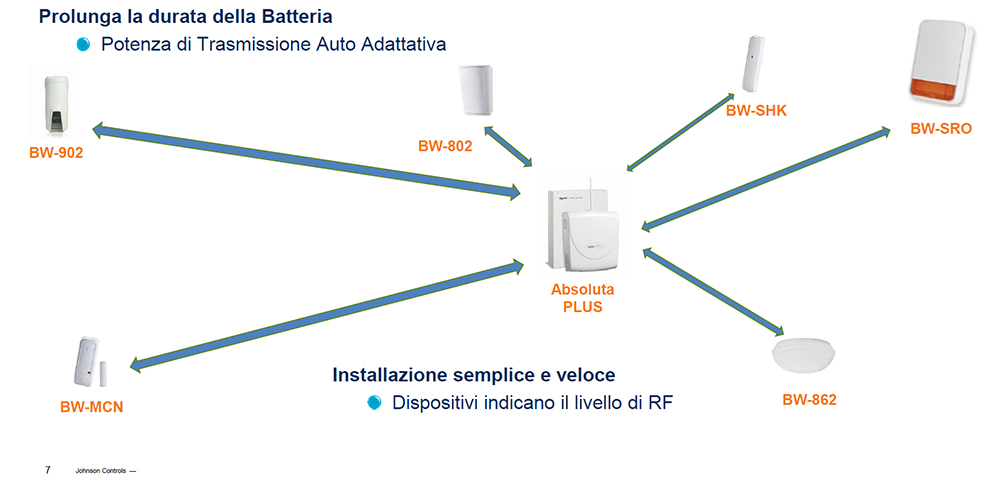 Absoluta Home Automation
With the user application and thanks to the control panel automations you can set annual, weekly and daily programmers and timers.
Up to 8 automatic arming / disarming during the day for each single area of the control panel. Up to 20 templates to apply
Up to 20 timers models with 8 activations per day.
Timers can be associated with:
- Get out
- Users
- Keys, tags and remote controls
- Calls
- SMS
- Arming and disarming

There are also Chrono Thermostat functions (temperature functions with PowerG + Timers devices)



Smart SMS:
The control panel automatically builds the SMS (Control panel + event + zone label)
E-mail:
32 email addresses in 4 groups:
- Technicians
- System administrators
- Supplements
- End users
Talk and Listen:
With AS100 you can:
- Activate the environmental listening function
- Activate bidirectional communication
- Play voice messages
User APP - Absoluta App and Absoluta Pro:
Ability to login in various ways (Touch ID or Face ID), PIN, Password.
Complete and quick management of all functions (gate opening, activating a scenario, etc.)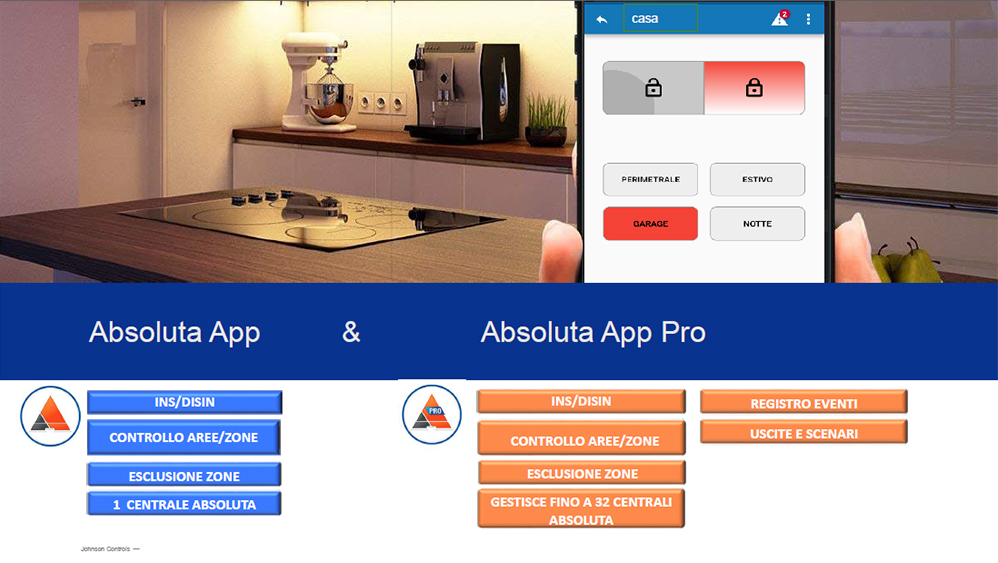 BOSS software v4.30
Compatibility with BOSS software v4.30
- Added wireless detectors, enabling and pairing wireless detectors
- Management of devices that have brightness and temperature sensors
- Device management with auxiliary inputs (BW-MCN, BW-MCB, BW-312, BW-SHK, BW-IO)
- BW-IO programming outputs
- Added BW-SRO / BW-SRI wireless sirens
- Radio command programming
-
More security:
Reliable and affordable protection:
- Highly reliable and accurate detection and security for the protection of people and property
- Wireless and wired outdoor detectors to stop intruders before they enter
- Advanced encryption and other system protections prevent digital attacks and prevent interference and blocking from other devices
- End user app that allows system operations from anywhere, also supporting many home automation actions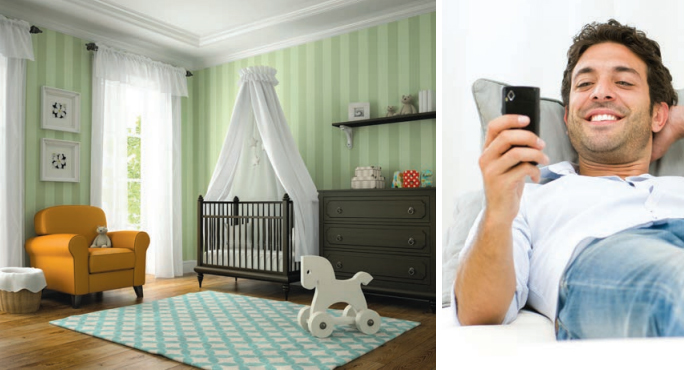 Wide range of compatible devices:
Installation scenarios:
Ideal for residential and commercial systems who want a hybrid solution for superior security.
Certifications:
This control panel is EN Grade 2 certified
Download
Available Downloads:
-
Brochure
-
Datasheet
WHO IS BENTEL?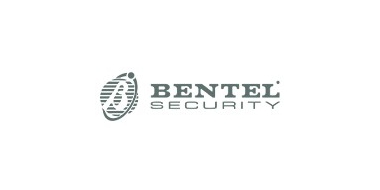 Bentel Security represents a traditional point of reference in the SECURITY sector, of which it is the leading brand for anti-theft and fire alarm systems.
Bentel Security is one of the largest Italian companies in the field of Security and Alarm Systems. It was born in 1983 in Grottammare (AP) from an all-Italian project. In 1998 it was acquired by the Canadian group DSC and in 2001 it became part of the American multinational TYCO, the largest systems integrator in the world, world leader in the security sector.
The wide range of products they have designed offer quality, reliability, high performance and an all-Italian guarantee.
All our products are in conformity with the in force CE normative (
read here
). To ask for a copy of the certification
fill out this form
OTHER PRODUCTS RELATED TO THIS ITEM
Questions
(0)
No customer questions for the moment.
Your Question has been successfully sent our team. Thanks for question!