---
New Deep Learning Series | NVR4108-4KS2 / L Dahua NVR IP video recorder for surveillance 8 IP channels up to 8Megapixel 4K ULTRA-HD , Bandwidth 80 / 60Mbps , Video Compression up to Smart H.265 +, VGA, HDMI (4K), 2 USB, ONVIF , new graphic interface , supports cameras with IVS and SMD plus on board, up to 1 HDD SATA 6 TB, 1 input + 1 Audio output. Ideal for retail stores, families, patios and public areas. NVR4108-4KS2-L
Reference: NVR4108-4KS2/L
Brand: Dahua
EAN: 6939554981418
LO HAI TROVATO A MENO?
Scrivici dove e ti sconteremo la differenza fino a fine mese!

---
DAHUA DEEP LEARNING SERIES | IP NVR 8 CHANNELS 4K 8MP ULTRA-HD H.265 1HDD ARTIFICIAL INTELLIGENCE SUPPORT
8 Channel IP Nvr -
New Deep Learning Series -
Dahua
8 IP channels
4K ULTRA-HD up to 8Megapixel
- Bandwidth 80 / 60Mbps - Compression up to Smart H.265 +
Support for IP cameras with artificial intelligence and SMD on board
. Up to 1 HDD 6 TB installable - VGA - HDMI (4K) -
2 USB - 1 LAN RJ45 10/100 Mbps - Audio (1 input + 1 output) - White color -
Hard Disk NOT included - 24 month warranty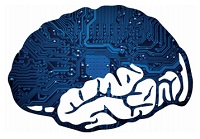 DEEP LEARNING | THE NEW DAHUA RECORDERS:
Dahua continues its evolution towards increasingly intelligent systems.
Dahua NVR / L series of IP recorders, are highly affordable network video recorders, which provide interesting functions such as local live view, multi-screen view, real-time storage to local HDD, remote management and control. Ideal for a wide range of applications such as home security, schools, shops, small offices.

As for the features, here are the most important:
- New simpler and more intuitive user interface
- H.265 + / H.264 + Smart Video Encoding: Greater efficiency in video encoding process and higher video quality. Reduction of storage and transmission costs.
- Support for cameras with IVS (artificial intelligence) on board
- Security Center: for a complete overview of the security and protection device of the same with security scans, certificate management and much more
- 4K resolution

Product details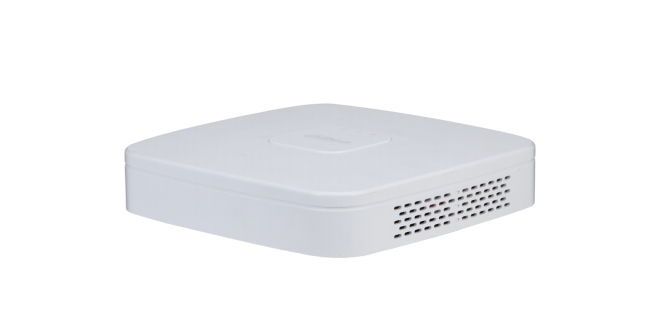 Onvif, the absolute standard for IP cameras. Being Onvif guarantees compatibility with any modern recording system. NOT being Onvif means having a camera for its own sake that can never be used together with recording systems.

Smart H.265 +

Smart H.265 + is the optimized implementation of the H.265 codec which uses a scene adaptive coding strategy, dynamic GOP, dynamic ROI, flexible multi-frame reference structure and intelligent noise reduction useful for delivering high quality video without straining the network.

Smart H.265 + greatly reduces bit rate and storage requirements compared to standard H.265 compression

New ULTRA HD 4K Technology!
Even higher resolution than FULL-HD!
More detail available, greater sense of depth and realism.

8 Channels up to 4K ULTRA-HD 8 Megapixe l!

Recording resolution: 8MP / 5MP / 4MP / 3MP / 1080P / 720P / D1 / CIF

Bandwidth: 80 Mbps for access, 80 Mbps for storage and 60 Mbps for forwarding

It supports IP cameras with ONVIF and RTSP protocol

Dahua has released the new 4.0 graphic interface for NVRs!

GUI-NVR 4.0:

New graphical user interface, even more simplified!
Here are the major news:

No plugins in the web browser which improves the compatibility of different web browsers

• Supports multi-day search to make goal search easier

• Notification of hard disk format to avoid the loss of important data

• Better compatibility with TPC, AI fisheye, PTZ cameras, etc.

• New firewall and network security protocol added to protect the system

• Seagate * SHM (SkyHwak Health Management) actively protects data



Cloud function via APP for mobile devices. Compatible Android, iOS
Remote surveillance, live viewing and video playback directly from your phone



EVOPLUS / EASYVIEWER / DMSS





This video recorder supports cameras with IVS (Intelligence) on board

- recognizes and records videos containing IVS data on all IP channels.
- records standard intelligence functions
- logs premium IVS features (detect abandoned or lost objects, tripwire violations (line crossing) and intrusion violations.)
- Face detection, people counting and heat map from ip cameras

SMD Plus: Support for cameras with SMD Plus on board.
With the deep learning algorithm, Dahua SMD Plus filters the alarm received from the detection of an unaffected target and effectively recognizes humans and vehicles, sending alarms when they appear in the shooting area.

Equipped with: 1 SATA port, up to 6TB of capacity. (Hard disk not included)

ATTENTION: use specific audio / video discs on NVR systems.
For more information, read our dedicated article.

1x RJ-45 (10 / 100Mbps)
This NVR features 2x USB 2.0 ports



Resolution up to 4K via HDMI port!

New ULTRA HD 4K Technology!
Even higher resolution than FULL-HD!
More detail available, greater sense of depth and realism.

This DVR has 1 audio input and 1 audio output
Dynamic DNS: allows you to reach the NVR even in the case of Dynamic IP

SECURITY CENTER - DAHUA


Security Center provides a complete picture of device security and helps protect the NVR with security scans, attack defense, certificate management, audio and video encryption, and security settings. Security alerts can be sent in various ways such as e-mails, messages and voice messages.

Security Center is responsible for collecting, processing, analyzing, viewing and archiving all data collected from cameras, sensors and other devices on the front-end.

An integrated security center to have safe cities must ensure continuous communication without interruptions between the various departments, unified response to incidents and advanced data analysis for smarter and more efficient policing.

This product is covered by a 24 month warranty.
Data sheet
Model: DVR
NVR4108-4KS2 / L
SYSTEM
Main Processor
Industrial-grade embedded processor
Operating System
Embedded Linux
Operation Interface
Web / operating in local GUI
Video
Access Channel
8 channels
Network Bandwidth
80 Mbps for access, 80 Mbps for storage and 60 Mbps for forwarding
Resolution
8MP / 5MP / 4MP / 3MP / 1080P / 720P / D1 / CIF
Decoding Capability
8 – ch @ 1080P (30FPS)
Video Output
1 VGA / 1 HDMI simultaneous video output, maximum resolution 4K
Multi-screen Display
1/4/8/9
Third Party Camera Access
Onvif, RTSP
Compression
Video
Smart H.265 + / H.265 / Smart H.264 + / H.264
Audio
G.711A / G.711U / PCM / G726
Network
Network Protocol
HTTP, HTTPS, TCP / IP, IPv4, RTSP, UDP, NTP, DHCP, DNS, P2P
Mobile Phone Access
iDMSS (iOS) / gDMSS (Android)
Interoperability
ONVIF (profile S), CGI, SDK
Browser
Chrome, IE9 or above, Firefox
Record Playback
Multi-channel Playback
Up to 8 channels playback
Record Mode
Priority of record mode: Manual recording> alarm recording> motion detection recording> timed recording
Storage
Local HDD
Backup
USB device
Playback Function
1. Play, pause, stop, fast forward, fast backward, rewind, play by frame 2. Full screen, backup (cut / file), partially enlarge, audio on / off
Alarm
General Alarm
Motion detection, privacy masking, video loss, IPC alarm
Anomaly Alarm
Front-end device going offline, storage error, full storage, IP conflict, MAC conflict, login lock, network security anomaly
Alarm Linkage
Video recording, snapshot, log, preset point, tour
External Port
HDD
1 SATA port, up to 6 TB for a single HDD. The maximum HDD capacity varies with environment temperature
USB
2 rear USB 2.0
HDMI
1
VGA
1
RCA Input
1
RCA Output
1
Network
1 RJ – 45 port (10/100 Mbps)
General Parameter
Power Supply
DC12V, 2A
Power Consumption
Total output of NVR is ≤ 10W (without HDD)
Net Weight
0.45kg (0.99 lb) (without HDD)
Gross weight
1.07kg (2.36 lb) (without HDD)
Product Dimensions
205.3mm × 204.2mm × 45.6mm (W × L × H) 8.08 inch × 8.04 inch × 1.80 inch (W × L × H)
Package Dimensions
96 mm × 364 mm × 261 mm (W × L × H) 3.78 inch × 14.33 inch × 10.28 inch (W × L × H)
Operating Temperature
-10 ° C to + 50 ° C (+ 14 ° F to + 122 ° F)
Storage Temperature
0 ° C to + 40 ° C (+ 32 ° F to + 104 ° F)
Operating Humidity
10% –90%
Storage Humidity
30% –85%
Operating Altitude
3000 m (9843 ft)
Installation
Desktop mounting
Certifications
CE / FCC / UL
Further details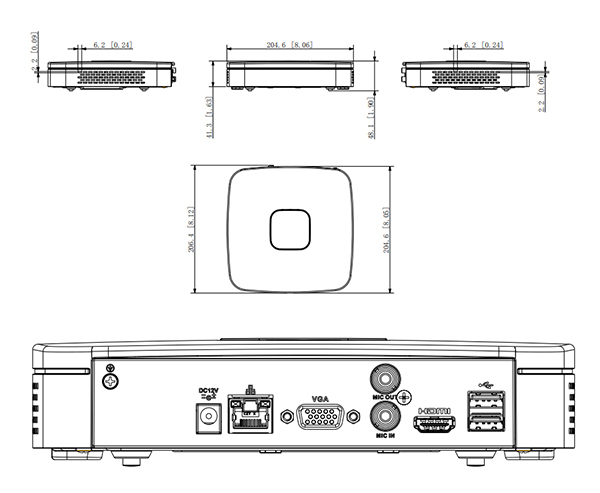 All our products are in conformity with the in force CE normative (
read here
). To ask for a copy of the certification
fill out this form
OTHER PRODUCTS RELATED TO THIS ITEM
Questions
(0)
No customer questions for the moment.
Your Question has been successfully sent our team. Thanks for question!