---
4-channel CCTV video surveillance kit: 4-CHANNEL 4K & H.265 IP NVR UP TO 8MP 1HDD POE + 1TB Hard Disk + 4 Mpx IP cameras fixed optics + Video surveillance signs. Ready to use kit. KIT-DH-BU-IP-04-10-2
Reference: KIT-DH-BU-IP-04-10-2
Brand: Dahua

discover the available quantity
LO HAI TROVATO A MENO?
Scrivici dove e ti sconteremo la differenza fino a fine mese!

---
KIT VIDEOSORVEGLIANZA 4 CANALI IP FINO A 8MP - CAM 2MPX - HARD DISK - DAHUA

Kit modificato in data 20 Gennaio 2023
KIT Videosorveglianza 4 Canali - Serie Business - Dahua
NVR IP A 4 CANALI 4K FINO A 8MP 1HDD POE
NVR4104-P-4KS2/L
+ Hard Disk 1TB Western Digital
WD10PURZ
Telecamere IP 2 Mpx con ottica fissa
Dome IPC-HDBW2231E-S-S2 / Bullet IPC-HFW2231S-S-S2
- Cartelli Videosorveglianza
Solo prodotti di qualità
Dettagli prodotto
1x Registratore Dahua NVR 4 Canali PoE 4K 8MP IP per telecamere videosorveglianza


1x Registratore Dahua NVR 4 Canali PoE 4K 8MP IP per telecamere videosorveglianza

Leggete tutte le caratteristiche cliccando sul Link del DVR qui sopra e capirete quanto può offrire, in particolare:

- Nuova Serie Deep Learning | NVR4104-P-4KS2/L Dahua
- Videoregistratore NVR IP per la sorveglianza
- 4 Canali PoE fino a 8Megapixel 4K ULTRA-HD
- Larghezza di banda 80/60Mbps
- Video Compressione fino Smart H.265+
- VGA, HDMI(4K), 2 USB, ONVIF®
- nuova interfaccia grafica
- supporta telecamere con IVS e SMD plus a bordo
- fino a 1HDD SATA 6 TB
- 1 ingresso + 1 uscita Audio.
- Ideale per negozi al dettaglio, famiglie, cortili e aree pubbliche. NVR4104-P-4KS2-L

1x Hard Disk 1TB 3,5" SATA Audio/Video - Western Digital

Linea Purple!

Hard Disk 1TB 3,5" SATA Audio/Video - Western Digital

NUOVA SERIE PURZ CON TECNOLOGIA ALLFRAME 4K

Fino a 64 telecamere in HD

Gli Hard Disk per il mondo TVCC DEVONO avere caratteristiche speciali per garantire assoluta affidabilità in un sistema sempre accesso 24h su 24 e con flussi continui tipici del mondo Audio/Video.

I dischi da noi forniti sono unicamente studiati per questo settore, e prodotti dai principali produttori del settore.

Attenzione: NON usate dischi qualunque, leggete qui perchè.

Recording Time - H264 25fps -24H Continuos Recording - in GIGABYTE
Telecamere
CIF
D1
720p
1080p
4
8,8
26,4
62
132,8
8
17,6
52,8
124
265,6
16
35,2
105,6
248
531,2
32
70,4
211,2
496
1062,4

1x Cartello Videosorveglianza Formato A4 Retro Adesivo + 1x Cartello Videosorveglianza Formato A5 Retro Adesivo

Ricordiamo che la normativa obbliga l'esposizione, in caso di ambiente videosorvegliato, di una corretta indicazione a riguardo.
E' necessario riportare chi effettua la registrazione, per quali scopi e chi ne è responsabile, la mancata presenza di questa indicazione e passibile di multa, ed in taluni casi anche di denuncia penale.

TUTTI i nostri KIT da oggi prevedono un cartello in formato A4 e un cartello in formato A5.
Elevata qualità di stampa così da renderlo anche gradevole alla vista, nessun riferimento al sito internet.

Retro adesivo




2x telecamera ip 1080p ottica fissa 2.8mm starlight h265 wdr onvif poe dahua (IPC-HDBW2231E-S-S2)

Telecamera IP Dome - Dahua
Risoluzione: 1080P 2MP (Max 25/30fps)
Sensore d'immagine CMOS progressivo 1/2.8" con

tecnologia Starlight!

 

Tecnologia Starlight:

Visione a colori anche in modalità notturna
Ottica Fissa 2.8mm
Video compressione

H.265

/ H.264
Funzioni: WDR(120dB), Day/Night(ICR), 3DNR, AWB, AGC, BLC
Standard ONVIF®
Illuminatore IR LED con portata massima di 30Metri.
Visibilità da Remoto. Supporta Applicazione DMSS (Il miglior software TVCC per Mobile).
Protezione IP67 (Polveri/Immersione)
Protezione IK10 (Atti Vandalici)
Adatta ad ambienti interni/esterni
Alimentazione 12V DC (non incluso)
Protocollo PoE
Slot per MicroSD
Dimensioni: 81 mm × Φ109.9 mm (3.2" × Φ4.3")
24 Mesi di Garanzia Italiana

X2 TELECAMERA IP DA ESTERNO ONVIF® POE 2MP STARLIGHT 2.8MM S2 DAHUA (IPC-HFW2231S-S-S2)




Versione S2
Telecamera IP da esterno

ONVIF® PoE

- Dahua
Risoluzione: 2 Megapixel 2MP
Sensore d'immagine CMOS 1/2.8 con

tecnologia  STARLIGHT

Tecnologia Starlight: visione notturna a colori
Ottica Fissa 2.8mm
Video Compressione

H.265

WDR(120dB), Day/Night (ICR), 3DNR, AWB, AGC, BLC, OSD, HLC
Illuminatore Smart IR 1 LED 30MT
Video Analisi: Attraversamento Linea, Intrusione 
Protezione IP67 (Polveri/Immersione)
Alimentatore 12V DC (Non Incluso)
Slot per MicroSD (Max 256GB non inclusa)
Dimensioni: 166.2 mm × Φ70 mm (6.5" × Φ2.8")
Metallo
Garanzia 24 Mesi
Scheda tecnica
Model: DVR
NVR4104-P-4KS2/L
SYSTEM
Main Processor
Industrial-grade embedded processor
Operating System
Embedded Linux
Operation Interface
Web/operating in local GUI
Video
Access Channel
4 channels
Network Bandwidth
80 Mbps for access, 80 Mbps for storage and 60 Mbps for forwarding
Resolution
8MP/5MP/4MP/3MP/1080P/720P/D1/CIF
Decoding Capability
4–ch@4MP(30FPS)
Video Output
1 VGA/1 HDMI simultaneous video output, maximum resolution 4K
Multi-screen Display
1/4
Third Party Camera Access
Onvif, RTSP
Compression
Video
Smart H.265+/H.265/Smart H.264+/H.264
Audio
G.711A/G.711U/PCM/G726
Network
Network Protocol
HTTP, HTTPS, TCP/IP, IPv4, RTSP, UDP, NTP, DHCP, DNS, P2P
Mobile Phone Access
iDMSS (iOS)/gDMSS (Android)
Interoperability
ONVIF® (profile S), CGI, SDK
Browser
Chrome, IE9 or above, Firefox
Record Playback
Multi-channel Playback
Up to 4 channels playback
Record Mode
Priority of record mode: Manual recording > alarm recording > motion detection recording > timed recording
Storage
Local HDD
Backup
USB device
Playback Function
1. Play, pause, stop, fast forward, fast backward, rewind, play by frame 2. Full screen, backup (cut/file), partially enlarge, audio on/off
Alarm
General Alarm
Motion detection, privacy masking, video loss, IPC alarm
Anomaly Alarm
Front-end device going offline, storage error, full storage, IP conflict, MAC conflict, login lock, network security anomaly
Alarm Linkage
Video recording, snapshot, log, preset point, tour
External Port
HDD
1 SATA port, up to 6 TB for a single HDD. The maximum HDD capacity varies with environment temperature
USB
2 rear USB 2.0
HDMI
1
VGA
1
RCA Input
1
RCA Output
1
Network
1 RJ–45 port (10/100 Mbps), 4 RJ–45 ports with PoE power supply (10/100 Mbps)
General Parameter
Power Supply
DC48V/53V,1.25A/1.13A
Power Consumption
Total output of NVR is ≤ 10W (without HDD) Total output power of PoE is 36W, the maximum output power of a single port is 25.5W
Net Weight
0.50kg (1.10 lb) (without HDD)
Gross weight
1.43kg (3.15 lb) (without HDD)
Product Dimensions
205.3mm × 204.2mm × 45.6mm (W × L × H) 8.08 inch × 8.04 inch × 1.80 inch (W × L × H)
Package Dimensions
96 mm × 364 mm × 261 mm (W × L × H) 3.78 inch × 14.33 inch × 10.28 inch (W × L × H)
Operating Temperature
-10°C to +50°C (+14°F to +122°F)
Storage Temperature
0°C to +40°C (+32°F to +104°F)
Operating Humidity
10%–90%
Storage Humidity
30%–85%
Operating Altitude
3000 m (9843 ft)
Installation
Desktop mounting
Certifications
CE/FCC/UL
Ulteriori dettagli
Nessun dettaglio aggiuntivo disponibile
All our products are in conformity with the in force CE normative (
read here
). To ask for a copy of the certification
fill out this form
⯈ Complete your purchase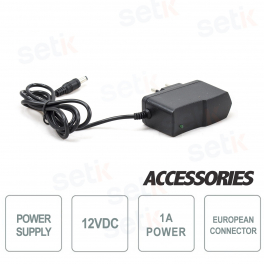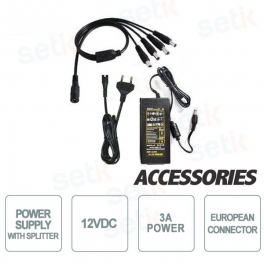 OTHER PRODUCTS RELATED TO THIS ITEM
Questions
(0)
No customer questions for the moment.
Your Question has been successfully sent our team. Thanks for question!