---
AMC Electronic Anti-theft Kit including: 1 central with 64 wireless inputs 868Mhz ( XR800 ) + 1 AMC magnetic contact via radio 868MHz x doors and windows ( CM 800 ) + 1 Bidirectional infrared sensor 868MHz ( IF 800 ) + 1 bidirectional radio control 5ch 868MHz body white + gray keys ( TR 800-WG ) KIT 570
Reference: KIT 570
Brand: AMC
EAN: 8058258769783
PRODUCT NOT AVAILABLE, DISCOUNT NOW 5%
LO HAI TROVATO A MENO?
Scrivici dove e ti sconteremo la differenza fino a fine mese!

---
CENTRAL BURGLAR ALARM KIT 64 WIRELESS INPUTS 868MHZ - KIT 570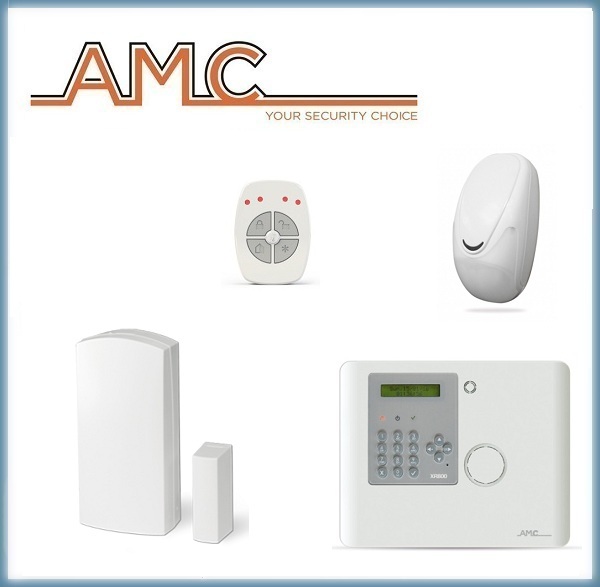 DESCRIPTION:
KIT 570 made by AMC Elettronica.
This anti-theft alarm kit includes:
1x Central with 64 wireless inputs 868Mhz ( XR800)
1x AMC magnetic contact via radio 868MHz x doors and windows ( CM 800 )
1x Bidirectional infrared sensor 868MHz ( IF 800 )
1x Two-way remote control 5ch 868MHz white body + gray keys ( TR 800-WG)
Product details

AMC ELETTRONICA ANTI-THEFT KIT:
In addition to the individual alarm components, AMC Elettronica offers various lines of complete anti-theft alarm kits, ideal for many situations.
---
KIT570:
1x CENTRAL XR800: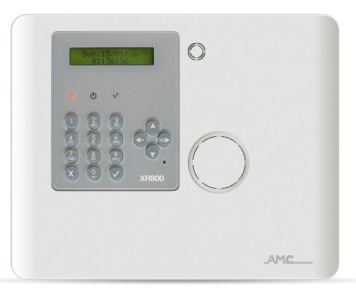 The XR 800 is the new AMC alarm control panel, completely wireless.
It is equipped with 64 radio zones that can be configured with different functions (alarm, theft, smoke detection, seismic, etc.).
XR800 is able to notify different situations including ALARMS, RAPINS, TAMPERING etc. with different carriers:
• PSTN line on board (voice call, Contact ID, SIA fsk, etc.)
• GPRS / 3G module (voice call, SMS, Contact ID, IP09 IP protocol for Contact ID and SIA IP)
• IP module (DC09 IP protocol for Contact ID and SIA IP)
The control panel can be controlled by smartphone and tablet through the new AMC MANAGER application (iOS / Android) with IP module and / or GPRS / 3G module.
Programming can be performed locally with the keyboard or cable software. Programming with the software can be performed remotely with an IP module and / or GPRS / 3G module.
XR800 is compatible with all X Series ACCESSORIES.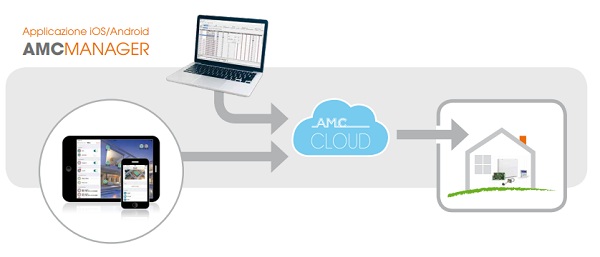 1x MAGNETIC CONTACT VIA RADIO 868MHZ CM 800: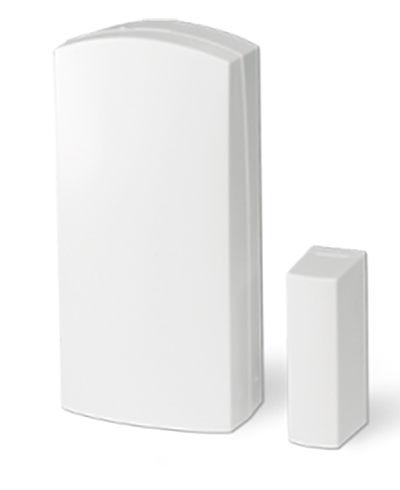 Compact magnetic contact 868 MHz two-way two-way transmitter with wired and magnetic contact. Equipped with an anti-opening and tear-proof device, two separate inputs and 128-bit AES coding against data cloning. Transmissions without collisions and radio saturations, lithium ion battery powered operation. White color. AMC Elettronica
1x VOLUMETRIC SENSOR 868MHZ IR IF800:
AMC radio IR sensor 868 MHz two-way Wireless volumetric. Compatible with X Series control units, infrared sensor with a range of 15 meters. Communicates with the receiver in a bidirectional way, automatic rest / wake up system. White color. AMC Elettronica
1 BIDIRECTIONAL 5CH 868MHZ TR800-WG RADIO CONTROL: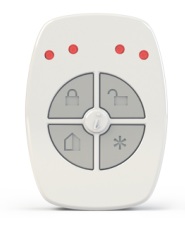 868MHz remote control by AMC Elettronica, bidirectional and compatible with AMC X-series control units. Fully programmable, with system status and LED indication, it is ideal for transmissions without radio collisions, saturations and highly secure thanks to the 128 b AES coding for the protection of data. Lithium Ion batteries
Data sheet
| | |
| --- | --- |
| Model | XR 800 |
| Zone Radio | 64 |
| Wired zones | 2 on board expandable to 10 (with output boards and keyboards) |
| Outputs | 2 on board expandable to 14 (with output boards and keyboards) |
| User Codes / Remote Keys | 64 |
| Areas | 4 |
| Groups | 4 |
| Keyboards | 2 |
| Insertion | 4 |
| Events memory | 1000 |
| Telephone numbers | 8 for SMS / voice + 8 for CMS |
| Communication | Integrated PSTN, IP module, GPRS / 3G module |
| Remote IP Management - GPRS / 3G | via app (iOS - Android) |
| Remote IP - GPRS / 3G programming | via PC software |
| Timer programmers | 4 for each day of the week |
More details

WHO IS AMC ELECTRONICS?


AMC , an Italian brand specialized in the Anti-intrusion sector and present in Lombardy since '74, boasts of an international distribution network with only made in Italy products. Attention to design and customer needs are just some of the most important qualities of this company. AMC is not just distribution but also production and analysis. In fact, at the Lurago d'Erba plant, there is a completely automatic line for the assembly of electronic cards in SMT technology and a "test laboratory" for verification and testing. Control panels, sirens and motion detectors are just some of the products made and distributed by AMC Elettronica. AMC, a brand synonymous with quality and professionalism, also offers its customers a Free Cloud service and a completely free official " AMC Manager " application compatible with Android and Apple.
Download
No brochures available
All our products are in conformity with the in force CE normative (
read here
). To ask for a copy of the certification
fill out this form
OTHER PRODUCTS RELATED TO THIS ITEM
Questions
(0)
No customer questions for the moment.
Your Question has been successfully sent our team. Thanks for question!