AJAX Kit di Allarme Professionale Wireless senza fili GPRS / Ethernet Black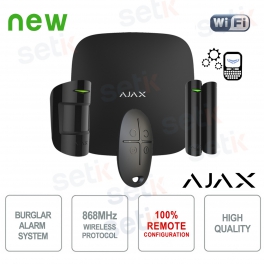 AJAX Kit di Allarme Professionale Wireless senza fili GPRS / Ethernet Black - AJ-HUBKIT-B

AJ-HUBKIT-B / AJHUBKND Sistema di allarme Ajax StarterKit / Hub Kit Nero professionale con comunicazione senza fili bidirezionale, versione Black
♦ Pannello con batteria di backup | AJ-HUB-B
♦ Rilevatore di movimento PIR | AJ-MOTIONPROTECT-B
♦ Contatto porta/finestra magnetico AJ-DOORPROTECT-B
♦ Controllo remoto | AJ-SPACECONTROL-B
Availability:
Hurry up! Only a few pieces left in our warehouse!
Initial price:
394,06 €
-22%
307,37 € tax incl.




Do you want to be even safer?
Take a look at the PROMO VERSION with IP CAMERA INCLUDED!
AJAX SYSTEMS:
SUPER 22% SALE on all products by AJAX SYSTEMS.
Find out more!