---
PW-CH-SH-T2-SP-16 Setik EV Electric car charger 10 / 16A type 2 single-phase domestic and portable with shuko plug, compliant with IEC 62196-2 standard, 5 meters long, button for current switch, LCD display with indications status, LED flash, over voltage and overheat protection, IP65 protection, durable material
Reference: PW-CH-SH-T2-SP-16
Brand: Setik
EAN: 8057457616119

discover the available quantity
---

PW-CH-SH-T2-SP-16 | EV SINGLE-PHASE 10 / 16A SHUKO ELECTRIC CARS PORTABLE CHARGER 5METERS - WHITE

EV single-phase electric car charger 10 / 16A type2 with shuko socket and color lcd display with system status indication. Length 5 meters, protected against overvoltage and overheating, for outdoor use (IP65), compliant with IEC 62196-2 standard

Setik: attentive to safety but also to the environment. Read the full article!
Environmental sustainability is a very important concept for Setik.
Reducing the impact of man on the environment is part of our philosophy, which is also applied daily in the company.
In fact, in recent years we have:


➽ Integrated electric vehicles
➽ Eliminated plastic cups
➽ Chosen a building energy efficient, such as corporate headquarters

We see an important future in the world of electric cars and that is why we have decided to integrate in the catalog all the products necessary for their functioning.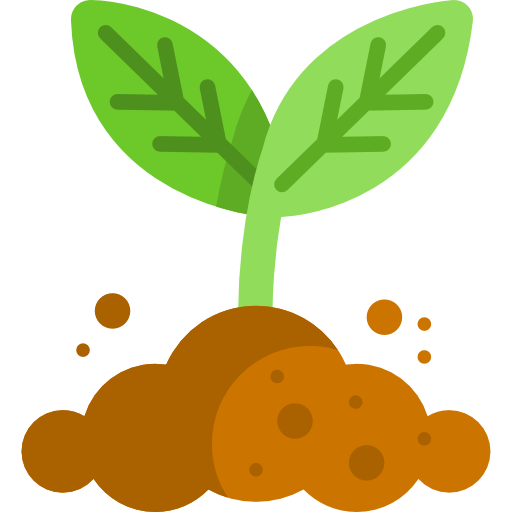 Do you want to carry out a project with our products?
If you are interested in carrying out a charging project in company car parks, shopping centers, private residences or public bodies, contact us! We will provide you with all the support you need to create your eco-sustainable project.

Why choose an electric car?
Buying an electric car brings benefits both technically and economically.
The motor of an electric car is simpler, quieter and cleaner compared to the traditional ones and the maintenance / management costs are much lower, since there are no parts subject to wear or replacement fluids. Another aspect that should not be underestimated concerns the reduction of pollution.
Why choose our products?
The products that we have decided to integrate in the catalog are all products of excellent quality, chosen after an accurate market analysis.
By purchasing the electric car products offered by us, you will have:


➽ 3 year warranty
➽ Pre and post sales assistance
➽ Safety of excellent quality thanks to TUV and CE certifications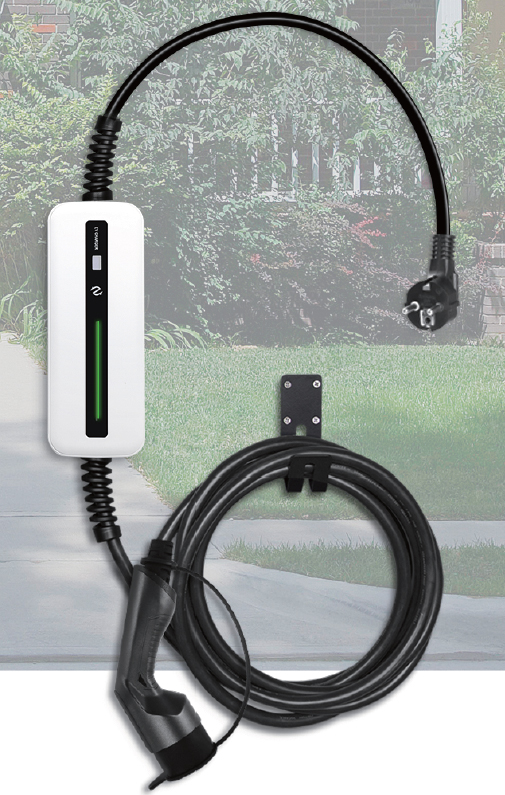 PW-CH-SH-T2-SP-16
---
♦ EV charger
♦ Connectable to electric cars
♦
Some compatible models:
Audi A3 e-Tron, BMW i3, BMW i8, Chevrolet Spark, Mercedes B Class E-Celi, Mercedes S500 PHEV, Mercedes SLS EV, Mercedes Vito E-Cell Van, Porsche Panamera S PHEV, Volkswagen e- Up, Volkswagen e-Golf, Volvo V60 PHEV ...
♦ Type 2 connector with shuko socket
♦ Domestic and portable
♦ 10 / 16A Single phase
♦ Length: 5 meters
♦ Durable ABS plastic design
♦ Button with switch amperage 10 / 16A
♦ LCD display with information on the charging status
♦ Flash LED flashing in different ways to understand the type of problem present
♦ High compatibility
♦ Overvoltage and overheating protection
♦ IP65 protection
♦ Complies with IEC 62196-2 standard
♦ White color
♦ TUV and CE certified
| | |
| --- | --- |
| Operation Current | 6 - 16A |
| Current Adjustable | yes |
| Power Supply | 1-Phase |
| Operational Voltage | 220 ± 10% AC |
| Rated Operating Frequency | 47 - 63 HZ |
| Protection Degree | IP65 |
| Insulation Resistance | > 10MQ |
| Insulator Flammability | UL94 |
| Withstand Voltage | 2000V |
| Relative Humidity | 0-95% non-condensing |
| Maximum Altitude | < 2000M |
| Service Life: | 10,000 times |
| Operating Temperature | -30 ℃ ~ + 75 ℃ |
Type Connectors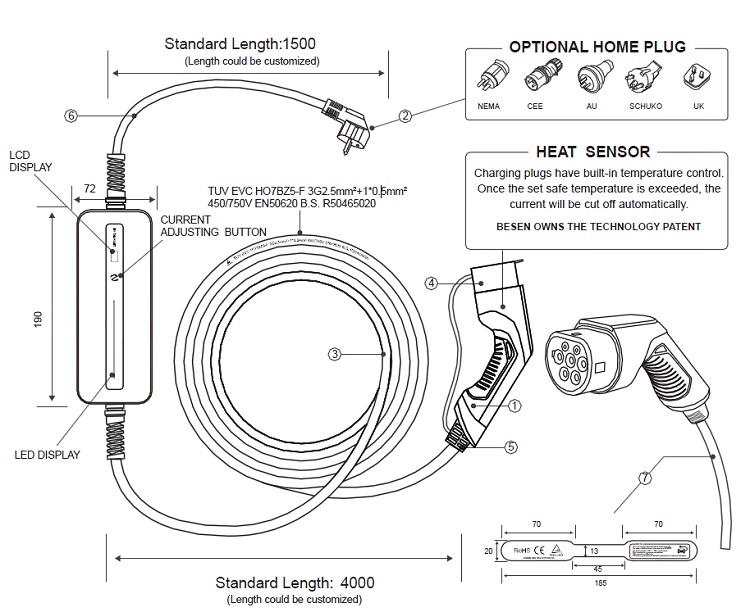 Instructions for Use
▅
HOW TO START CHARGING
Firmly insert the power plug into the wall socket. Secure the socket with a rated current
Insert the plug into the inlet on the vehicle
The device starts charging automatically after the green charging LED starts blinking

▅
HOW TO FINISH THE CHARGING
Disconnect the power plug from the outlet
Disconnect the 1/2 type plug from the vehicle inlet
Put the charger away

▅
HOW TO SWITCH THE CURRENT
Press the button to change the current between 10A and 16A before inserting the charging plug (car side)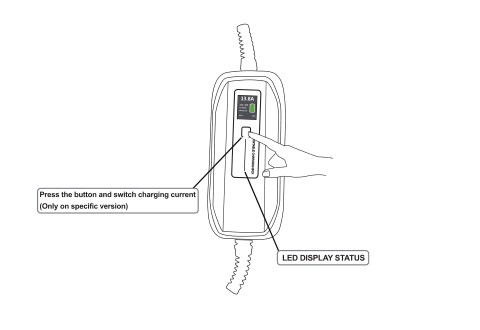 COMPATIBLE ELECTRIC VEHICLES
Find your vehicle!
To use this charger, you just need a vehicle with a TYPE 2 charging connector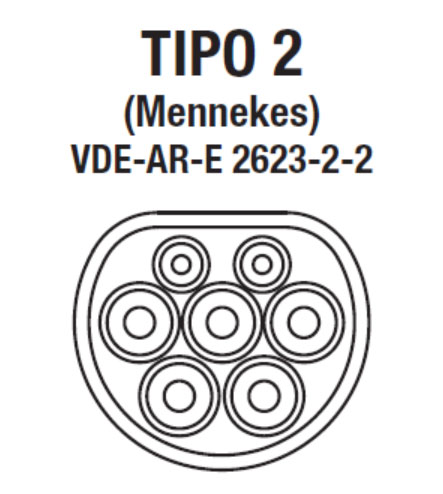 All our products are in conformity with the in force CE normative (
read here
). To ask for a copy of the certification
fill out this form
Questions
(0)
No customer questions for the moment.
Your Question has been successfully sent our team. Thanks for question!