AJAX Wireless Wireless Professional GPRS / Ethernet Alarm Kit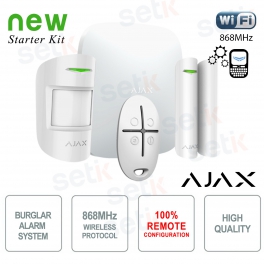 AJAX Wireless Wireless Professional GPRS / Ethernet Alarm Kit - AJ-HUBKIT-W

AJ-HUBKIT-W / AJHUBKD Professional Ajax Starter Kit alarm system / white Hub Kit with two-way wireless communication:
? Panel with backup battery | AJ-HUB-W
? PIR motion detector | AJ-MOTIONPROTECT-W
? Door contact / magnetic window AJ-DOORPROTECT-W
? Remote control | AJ-SpaceControl-W
Availability:
Hurry up! Only a few pieces left in our warehouse!
Initial price:
394,00 €
-45%
https://www.setik.biz/en/wireless/3232-aj-hubkit-w-ajax-kit-of-alarm-professional-wireless-no-wire-gprs-LAN-.html 216,70 € tax incl.

SEIZE THE OPPORTUNITY!



Do you want to be even safer?
Take a look at the PROMO VERSION with IP CAMERA INCLUDED!
SPECIAL ALARM KIT BY AJAX
Buy a PROMO AJAX KIT, a camera for FREE.
Find out more!