Security and Video Surveillance Webinar
We believe that preparation, technical assistance and professionalism are the necessary tools to create a relationship of trust and esteem with our customers. Precisely for this reason we have decided to start a series of Webinars that will allow us to confront and discuss issues related to security and video surveillance.
What will be the topics of the Setik Webinars?
New Products
Thematic comparisons with partners and brands
Regulations and decrees
We are particularly interested in this new format because it seems right to us to find moments in which to discuss, receive feedback or offer a slightly privileged point of view of those who live this job from the inside together with the big brands.  These meetings, therefore, will, as far as possible, involve the brands dearest to us or leading figures in the security sector.
First Setik Webinar: "Security in the Covid-19 era"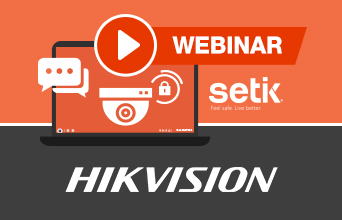 On Thursday 21st May we started our FIRST WEBINAR in PARTNERSHIP with Hikvision, brand and recent partner in the SETIK world and of which we are very proud. 
Together with Maurizio Coates, Inside Sales of Hikvision Italia, we talked about the news in the world of security following the COVID and the opportunities to take advantage of the inevitable changes related to the health emergency.
Lost our Webinar?
Watch it on our official Facebook page! (italian language)